For the Website I needed an Image to represent my aim. The owners of Miniaturwunderland are very excited by the olympic idea and I wanted to use the special look of the model, where I expected to allready find paralympic and olympic people sporting together. Totally uncomplicated the two very nice owners Gerrit and Frederik Braun opened up the opportunity to build an image on their "playground", assisted by an employee experienced with images of these very small people. MANY THANKS FOR THAT!
Ziel war ein Foto auf dem paralympische und olympische Sportler gemeinsam zu sehen sind, als Symbol für die Website. Als ich das "Kunst im öffentlichen Raum Projekt"  Roman Signer, Engpass entdeckte wusste ich: da soll es sein. Die olympischen Ringe ließen sich problemlos von den Landungsbrücken abnehmen und in den Fleet stellen. Auch die rollstuhlfahrende Tennisspielerin mitsamt Ball konnte einfach auf das Dach des Autos getragen werden. Was mir gefällt: Signers Verhältnis zu Explosivität, plötzlicher Energieentladeung in Verbindung mit Humor. Bei mir löst das einen leichten Schauder der Gefahr aus. Zu gerne wäre ich dabei gewesen, als das Auto in den Beton-Spalt fuhr. Vielleicht sind es ähnliche Sensationsgelüste, die Rollstuhlrugby zur beim Publikum beliebten Sportart der Paralympics werden ließen. Menschen in martialisch aussehenden Rollstühlen rasen aufeinander los, hin und wieder fallen sie um und müssen wieder aufgestellt werden, wenn sie es selber nicht schaffen. In der vordergründigen Unschärfe eine vergessene Sportart der Olympiade: die Malerei. Von 1912 bis 1948 gab es olympische Kunstwettbewerbe.
The Miniaturwunderland opens regularly exclusiv for people in wheelchairs. In the Das Miwula führt übrigens regelmäßig "Rolliabende" durch. Rollstuhlfahrer haben im Normalbetrieb, wenn es voll ist, das Nachsehen, noch konkreter ausgedrückt: das Arschsehen. Das Nachsehen haben auch die miniatürlichen paralympischen und olympischen Figuren, die für eine Bildserie bereits produziert und abgelichtet wurden.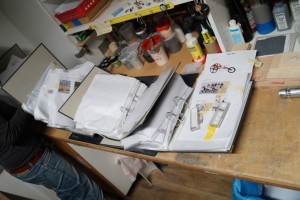 In diesen Ordnern werden sie ihr tristes Dasein fristen, bis…